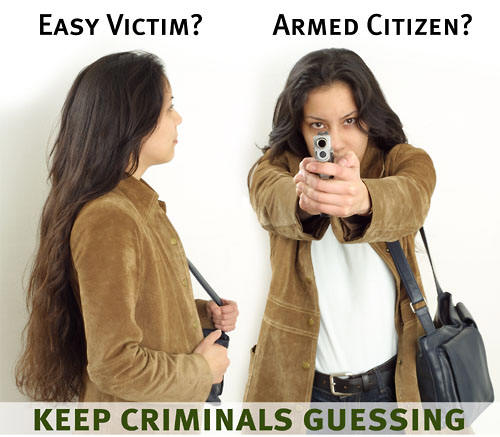 Michelle Cornelson, owner of the Coeur D'Alene, ID "Sunshine Expresso" got a nice Christmas gift from her husband – a Kel Tec 9mm pistol. We've seen that piece before at KenNelson.com….
When an armed robber tried to hold her up she took advantage of a distraction and:
Cornelson quickly whipped out her 9 mm Kel-Tec firearm — a Christmas present from her husband — scaring the teen off before calling police.
I don't know the details of why she didn't shoot him. Using a gun to scare rather than shoot can be trouble, especially when the opponent is armed.  If the issue was lack of comfort with the new pistol, then competitive shooting in IDPA or USPSA might have helped her get an accurate shot or two off and Idaho's future would have been more secure from this teenager's likely future crimes.  There are IDPA and USPSA clubs in Spokane, a reasonable drive west of Coeur D'Alene (which by the way is about as hard to spell as Albuquerque) .
Anyway, well done Mrs Cornelson, let's hope that this is the last time that Kel-Tec has to be whipped out (pun intended) (-:
3 Responses to "Ballistic Barista"
Kevin Says:
January 1st, 2010 at 11:23 am

I've noticed the "Armed Citizen" column in the American Rifleman magazine over the last year or so mosty shows news stories where the displaying of a weapon was enough to scare off the bad guy. I liked the way the used to have it, where every news clip had Granny blasting Cletus with a 12 gauge. I don't know if they are being PC or what. Its annoying.
Even if she didn't go the competitive route, a few sessions at a range would be a minimum before she shoud be carrying it.

Ken Says:
January 1st, 2010 at 11:45 am

The NRA uses the brandishing articles because it bumps up the # of good uses of a weapon.

Brandishing a clearly unarmed person might be okay, especially if you aren't sure of whats behind the subject. But if the guy has a gun, it seems draw and shoot is the safest bet.

But we don't know the details. It worked out this time.

TR Says:
January 1st, 2010 at 3:49 pm

Old Army joke: "HALT", "BANG", "Who goes there?"